Ocean of Grace – NEWEST ALBUM!!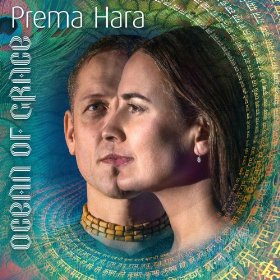 Listen (on iTunes)
Buy CD
Buy MP3
Lyrics
"Dive into Ocean of Grace and ride a tidal wave of devotion to the mystical land where Radha and Krishna cavorted.  Prema Hara's Kamaniya and Keshavacharya transport you there with their sublimely balanced vocals — his strong and deep, hers fluid and lilting.  From the rousingly ecstatic Radha – Queen of Vrindavan to the urban-edged Bhakti Shakti Dub to the epic, profoundly moving title track featuring Jai Uttal and an all-star cast, Ocean of Grace will stir and serenade your soul into a state of divine bliss as deep and wide as the Pacific. Sure to be remembered as a breakthrough album for this duo." ~ TheBhaktiBeat.com
Tears of Love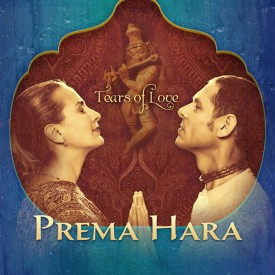 Listen (on iTunes)
Buy CD
Buy MP3
Lyrics
"Prema Hara continue their journey down the corridors of divine love with heart melting melodies and stirring rhythms." ~ Jai Uttal
"A journey of rich exoticism with expressive vocals set to a backdrop of heartrending instrumentals… A mesmerizing treat for the soul."         ~ Yoga International Magazine (Summer 2011 issue)
"Joy and devotion infuse every song… a lovely second album indeed." ~ Yoga Journal Magazine (Sep 2011 issue)
Tears of Love is both a memory and a new exotic taste; a journey through the villages of India and back, to where mantra music blends to meet the western world. At once rhythmic and melodic, grounding, yet uplifting, Tears of Love brings new relevance to the age-old devotional chant culture now burgeoning within yoga and ethnic music communities around the world. Keshavacharya's chants are deep and meditative, Kamaniya's, silvery and soothing. Both meld to the smooth beat of the mridanga and tabla drums. The album features master musicians Steve Gorn on bansuri flute and clarinet and Benjy Wertheimer on the traditional Indian esraj, as well as a remix influence from New York City's conscious rap artist Srikala. Tears of Love imbibes the energy of a live kirtan concert experience: melodious, energetic and utterly infectious.
Since their last release, Sweet Surrender, Prema Hara has traveled across the US on several tours, quickly gaining recognition as one of the West's most prominent kirtan bands. The band is a regular at distinguished kirtan music venues on both coasts, including Jivamukti Yoga (NYC) and Bhakti Yoga Shala (Los Angeles), as well as at heavily attended music festivals such as Bhakti Fest and World Peace & Yoga Jubilee.
Sweet Surrender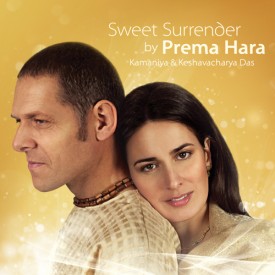 Listen (on iTunes)
Buy CD
Buy MP3
Lyrics
"Sweet Surrender is refreshing, deep, authentic… each track is a shining gem… one of the top kirtan collections of 2010." ~ LA Yoga Magazine
"A delicately crafted and beautiful expression of love and devotion… aims straight at the heart!" ~ David Newman (Durga Das)
"In Prema Hara's music one can hear the voices of Radha & Krishna, of Lover singing to Beloved." ~ Girish
A fusion of innovation and tradition, Prema Hara's debut album reveals the devotional mood of sweet surrender to the Divine. Kirtan's ebb and flow of call and response invites you to invoke the Sacred through sound. Mellow, meditative songs build into ecstatic grooves, creating a joyful celebration of the spirit. Kirtan is the music of the heart; a calling of the soul.
Produced by Gaura Vani and Bada Hari Das, both established Kirtan musicians and recording artists, Sweet Surrender has a warm, peaceful sound that transports the listener to the spiritual dimension.  Kamaniya and Keshavacharya's voices interweave seamlessly together while a rich chorus of chanters respond to their calls of devotion. Sweet Surrender will immerse you in the deep bhakti or devotion that Prema Hara experiences and is so eager to share.
Crying of the Soul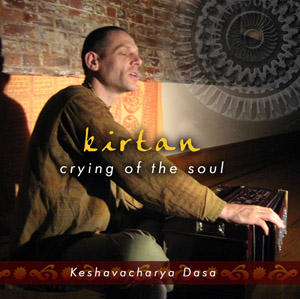 by Keshavacharya Das
Listen (on iTunes)
Buy CD
Buy MP3
Lyrics

"The haunting melodies & deep, soulful emotions in Keshavacharya Das' kirtan bring me immediately to the ancient temple inside of my heart… I love his singing." ~ Jai Uttal
Keshavacharya's first solo album is pure traditional Kirtan. All songs are Sanskrit chant's with traditional instruments. Kirtan ~ the heart or essence of Bhakti ~ is in one sense Kirtan is impossible to define. It defies measurement and resists categorization. Kirtan means to share to celebrate, to praise and to glorify.
Kirtan forms a bridge between your outer and inner identities, expressing our desire to know and love the divine absolute. It is utter devotion towards God. The different Ragas and melodies create different moods of spiritual feelings from great joy of intimate association to deep spiritual lamentation in separation of God.
Kirtan transcends the artificial barriers imposed by the external world. It rises above skin color, age, gender, race, religion, or creed and does not depend upon classic vocal training or musical abilities. It is sung from the heart; it is raw, joyful, primeval.